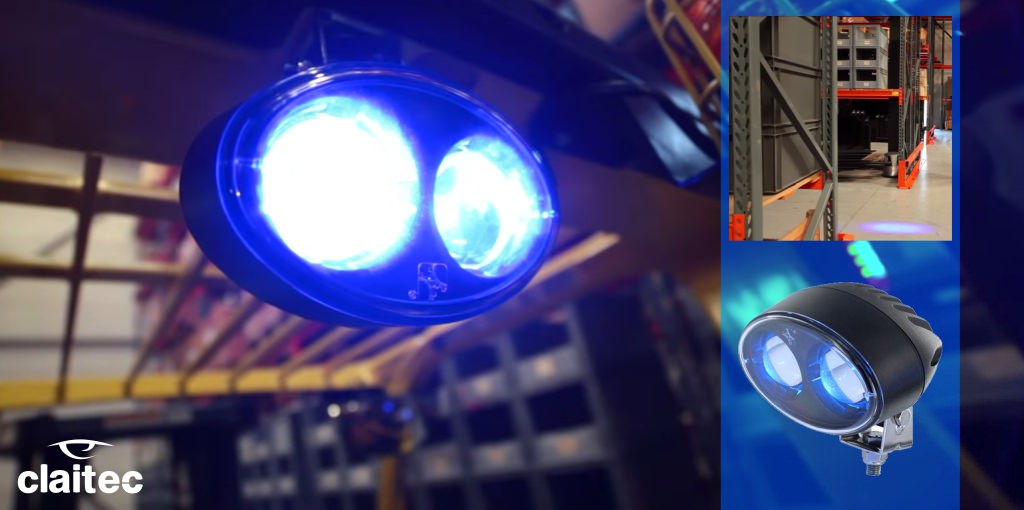 At Claitec we are committed to constantly monitor the needs and expectations of our customers. We want to be able to offer a wide range of products to suit their specific needs. In line with this philosophy, we continuously add solutions to our inventory that complement our product range. One such incorporation is the Blue Safety Light.
What is the Blue Safety light?
The Blue Safety Light is a warning device that is installed on forklifts.
This device emits a warning light when a potential danger is detected in poor visibility walkways and work areas. It increases safety in the hallways and areas where workers circulate on foot.
How does it work?
This device incorporates two bright LED low power consumption long lasting lights which, are placed at the rear of the cabin or on the mast. These lights project a large beam on the floor, a few meters ahead of the direction of travel, warning pedestrians of the presence of the forklift.
It complements the PAS System
The Blue Safety Light complements the PAS solution (Pedestrian Alert System). When the PAS system detects a pedestrian in the forklift's safety area, it activates the Blue Safety Light.