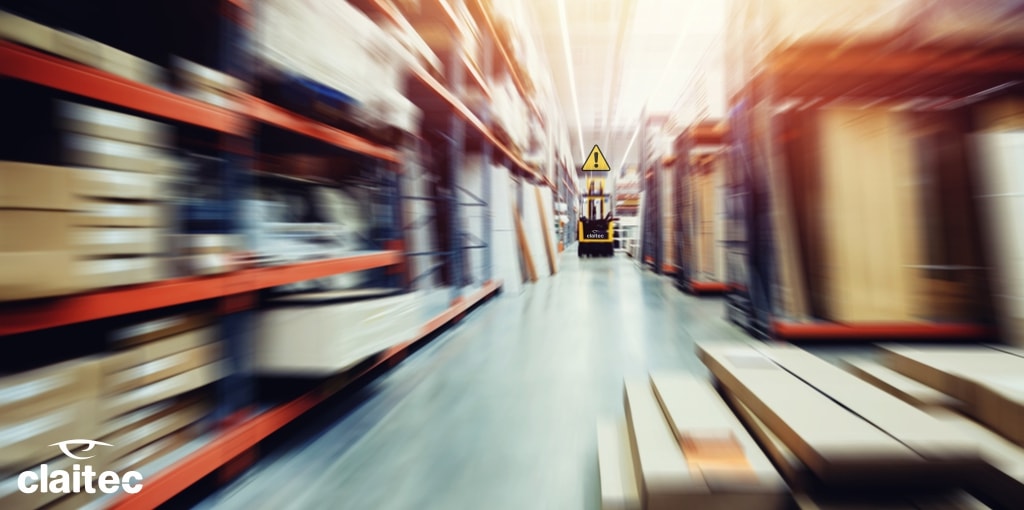 The image tends to repeat itself regardless of the industry we talk about – forklifts travelling from one place to another, braking, loading, accelerating, braking, unloading… again and again. Forklifts are like ants moving through our facilities, key pieces of our daily work and for many, a second home.
Keeping always in mind the importance forklifts have in our daily work life, it's important we keep them in excellent working condition, complying with all established safety guidelines and constantly making of them – and our industry in general – a safer place.
In this post we'd like to highlight some general safety features of these industrial vehicles as well as discuss several tools that can be added to make them even safer.
Ignacio Bereciartu, ULMA's After Sales Service Manager recently explained in an article published on the website www.manutencionyalmacenaje.com that his firm conducts a comprehensive periodic review to strengthen the safety of these machines. This analysis includes all the checks and adjustments which – according to the NTP 715 of the National Institute of Safety and Hygiene at Work – a forklift requires to be considered in optimal conditions, both in the functional as well as in the safety aspects of the vehicle.
Bereciartu clarified that "there is no strict norm, as in the rest of the countries, regarding the periodic inspections that forklifts must comply with" and said that his firm analyses: the driving position, the lifting elements, wheels, micros and sensors, braking systems and signalling systems, together with other safety indicators, such as license plates, operators' manuals and CE marking.
He also highlighted some of the safety measures implemented in the forklifts which constantly help prevent accidents in ULMA's workplace. For example, more and more vehicles have presence detection systems which paralyse the wheel of the forklift and the elevation of the mast as soon as it senses the driver is no longer sitting – or more precisely, when he or she lifts his or her rear from the seat.
In addition to this, devices are used to keep the forklift halted until the driver puts on his or her seatbelt. That system is not designed as in a normal car – its goal is to ensure that in a risk situation the operator does not jump out of the cabin instinctively, an action which would expose him or her even more.
The forklift' automatic lighting – which lights up when the forklift is started – and a device for detecting blind spots or speed limitations are also some of the developments highlighted by Bereciartu in the aforementioned article, and safety feature we should all contemplate incorporating into our work vehicles and spaces.
This is also our goal at Claitec. Some of our developments provide forklifts with various tools to operate more efficiently and safely. The BS (Blind Spot) Solution, for instance, indicates who has the right of way at intersections by means of traffic lights and warning lights previously installed in industrial spaces. Experience with our clients shows that once the BS Solution is installed, the risks of running over pedestrians are minimised and collisions between trucks are reduced in areas of limited visibility.
Similarly, the NAS (Narrow Aisle) Solution provides additional safety in narrow corridors. Highly requested by our customers, this high-performance product uses a traffic light to warns drivers when another forklift is also circulating in a narrow aisle. This development is useful for high shelving areas and reduced spaces, especially for retractable and trilateral forklifts.
Finally, the LSA (Low Speed Area) System, regulates and limits the speed of the forklift in loading areas, helping reduce risks and preventing accidents.
To find out more about our products, we invite you to visit our website: claitec.com.
If you are looking for further details on a specific topic or if you have any questions for us, please don't hesitate to contact us.