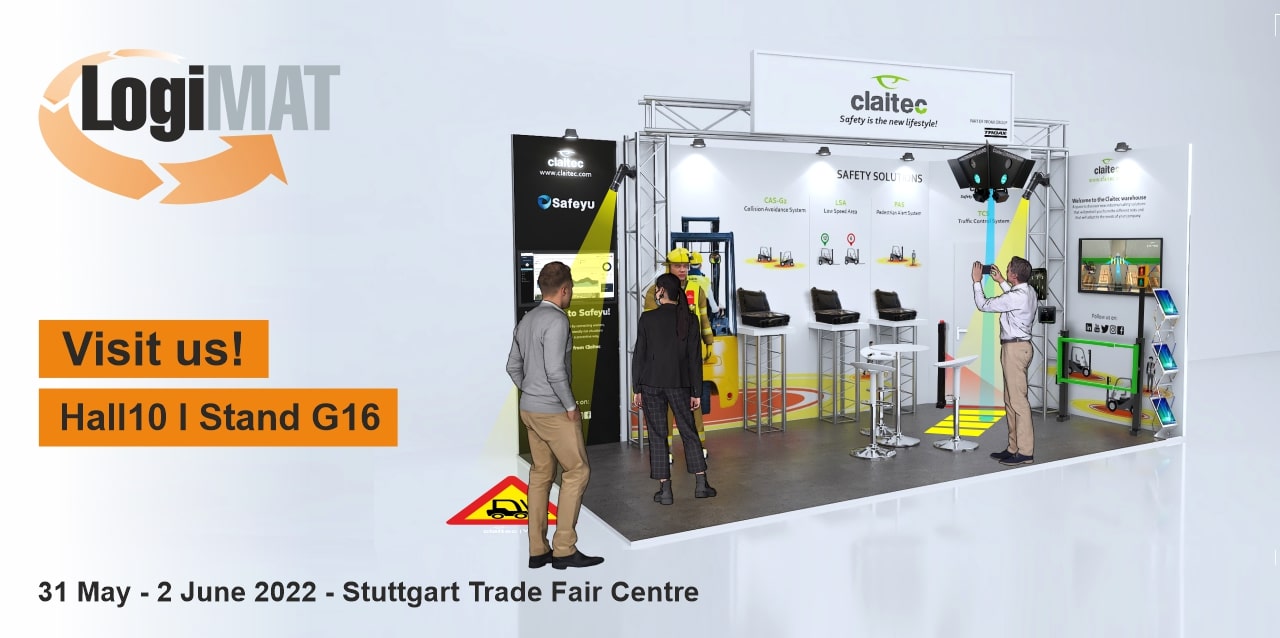 After a long two-year break caused by the COVID-19 global pandemic, the team at Claitec will once again be present at the Logimat fair, held this year in the city of Stuttgart from May 31 to June 2.


During these last two years of absence, we have made great progress and developed various new solutions and products that enhance safety in our work environments, prevent accidents and optimise and improve the safety and health of operators within industrial spaces. Our participation in Logimat 2022 is a great opportunity to share these new developments and exchange ideas with the most important and innovative firms in the world.
If you are planning on attending the fair, please come and visit us at stand G16 in Hall 10 where our ground-breaking solutions will be on display for you to explore up close and to help you visualise their functioning and potential for improving safety in your work environments.


These are some of the products we will be presenting at LOGIMAT 2022:
Crossing Guard, a device that is installed at high levels in warehouses to help prevent collisions at intersections.
PSG Gate, a safety gate designed to reduce risk situations in these environments.
Virtual safety gate, a virtual gate which, upon detecting a forklift, it projects a line on the ground to indicate crossing is not permitted.
AV-30 Verification Antenna, the purpose of this device is to verify the status of the batteries and the functioning of the RF communication of the active tags in a workspace.
Wireless charging station. A charger designed to supply 12 Tags T-10R. It is particularly useful for companies with large teams.
The Safeyu system: a product that allows a logistics company to ensure, control and record the safety of its workers, thus minimising any risk.
Claitec's Copilot: a touch screen device with multiple settings used to make a safety verification checklist before using a forklift -, it can give permissions to drivers, view the detection of forklifts and people or find out if the vehicle has had a collision, among other uses.
The impact sensor: a device that detects impacts and it sends them for registration in the Claitec Copilot.
We are looking forward to seeing you all soon again!
If you have any doubts or queries before, during or after the event, please don't hesitate to contact us, we are always happy to help!