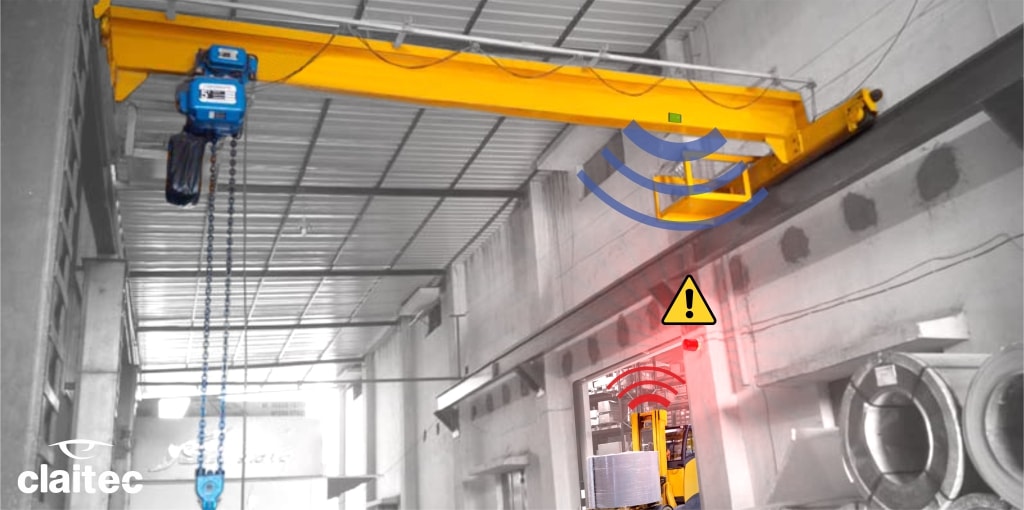 Our work at Claitec is nourished by new challenges.
We are committed to meet our customers' demands and resolve their concerns as well as generate tools that provide integral solutions for them.
We also strive to ensure that all the needs raised by our systems' users are met as professionally and efficiently as possible.
Bearing that in mind, today we'd like to introduce a new application for the PAS System which, has emerged from the conversations we sustain with our users, and making the most of the diverse options offered by this solid tool. We'll see how the PAS System can be used to improve the safety in bridge cranes.
Located both inside and outside of factories and warehouses, bridge cranes are used to transport materials and loads in vertical and horizontal movements. These devices have one or two mobile beams on rails, which are supported on columns or consoles, and are located along two opposite walls of the rectangular building. The frame of the bridge crane consists of two transverse beams in the direction of the light of the building (main beams) and one or two pairs of lateral beams (front), located lengthwise towards the building, used to fasten to the others and to hold the wheels.
The PAS System is applied in a bridge crane as follows:
An AC-50 activator is installed on the bridge and a TZ2 on the doors or areas to be indicated. In this way, when the bridge is brought close to a door, the tag activates a luminous beacon that indicates to the trucks and pedestrians that the bridge is nearby, so that they can take all the necessary precautions.
Similarly, forklifts also have an AC-50 activator installed. When approaching a door, the luminous beacon of the door is activated to warn the bridge crane operator, forklift drivers and other operators in the facility that there is an active vehicle in that space.
Used in this fashion, the PAS System becomes extremely useful in different warehouse spaces, as well as in loading and unloading areas, and in all types of factories and industries.
If you are keen to have more information about this application of the PAS System or if you feel we can assist you with any issue pertaining to your industry, don't hesitate to contact us!