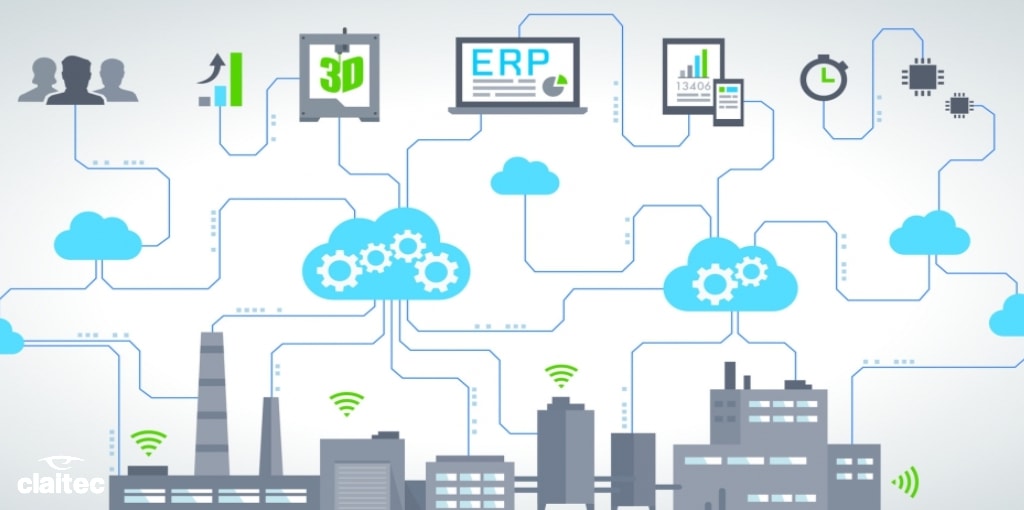 Coined at the Hanover Fair (Germany) in 2011 – the largest exhibition of industrial technology -, the term "4.0 Industry" describes a trend that encompasses what could be defined as smart factories or cyber-factories. Digital technologies are the protagonists of this new model. Today's global trend is to move towards digitalisation, in search of greater productive efficiency and logistics with the help of robotic tools and information management.
The first industrial revolution was driven by the introduction of the first steam production machine. The second, by the factories of mass production that displaced craft work. The third was the revolution in electronics, the Internet and renewable energy. Industry 4.0 is the result of the fourth industrial revolution which, seeks to take advantage of the immense capacity to obtain information that has exponentially developed in order to interconnect all the parts and processes of a factory using the Internet of things – that is, the potentiality of the physical objects of being interconnected through Internet. The immense wealth of data available today at all times can be processed and channelled through analysis software to produce more effectively.
Claitec proposes the development of safety measures focused on the concept of industry 4.0 – a product design that allows to identify and locate people, vehicles and robots. At the same time, it advocates a factory of the future working under a PIM structure (People-made manufacturing) to replace algorithmic mathematical models with other heuristics based on artificial intelligence, in order to help employees to complete the production process.
Process automation must be supervised, especially now that thanks to all these technological advances there's a greater flexibility and adaptability to all sorts of eventualities. The use of wireless sensors and media is vital for this to happen. Data mining along with intelligent information management, prediction and prevention systems and artificial intelligence become very important tools and resources to ensure a safe production within the factories- safe for operators and safe for machinery and processes.
Claitec proposes for people to be decision makers and to be able to work in a safe and collaborative environment in unison with technology and machinery. The factory must become a healthy environment, where motivation permeates all levels and turns people into productive operators who work in harmony with technology, enjoying and understanding the new processes and the advantages that these mean for their work and their daily life.
Safety must be the first priority of the 4.0 Industry. The increasing presence of vehicles without drivers, robots and machines requires a functioning that ensures the safe and healthy coexistence between technology and people.
By implementing small electronic devices, Claitec can detect the location and movement of people and vehicles at all times. This also allows the development of a wide range of applications that solve security problems and enable better production. Just as GPS have revolutionised the way we travel, indoor location technology will enable many applications within the factory of the future that will revolutionise the way the industry works.
Claitec ensures an increased level of accident prevention in high-risk areas, greater control of outsiders, protection of personnel and company assets through reliable, easy to handle alarms and easily installable individual warning systems for pedestrians and operators.
When defining the business model, factories in Industry 4.0 should put safety first. The minimum cost of accident related time-off-work expenses amounts to 1,500 euros per day. Implementing measures to avoid these expenses should be a priority in view of the profitability these new smart companies have to economise energy and raw materials and the efficient allocation of resources.
For these reasons, any system that allows communication and location in an effective and accurate way becomes essential in this new scenario. Hyper connectivity – possible today thanks to the development of the media and technology – is aligned with this idea.
Customers' needs come first for Claitec. Therefore, the marriage of teamwork and open innovation with employee social responsibility and empowerment are, and will always be, a priority when it comes to proposing solutions. Our concern to develop the best possible safety measures for the factories of the Industry, is a clear example of this goal.