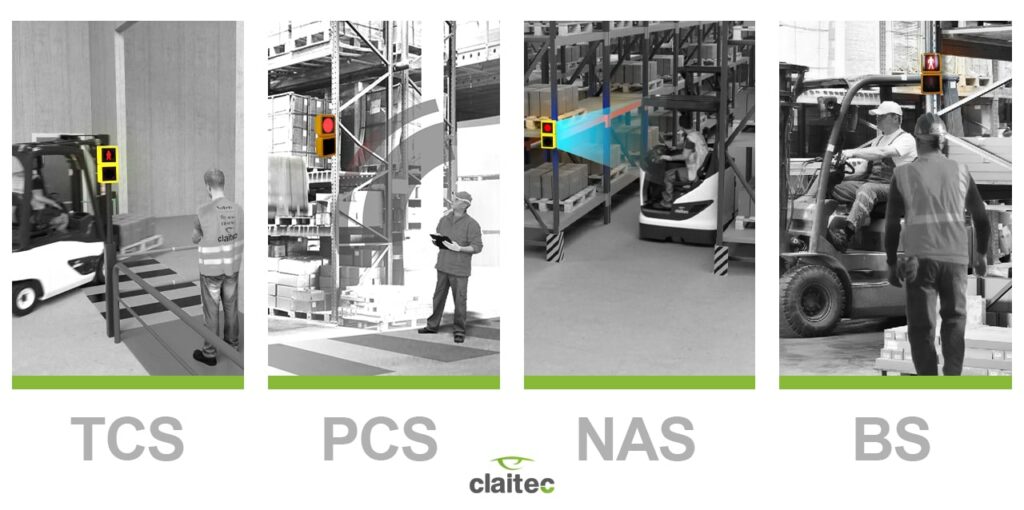 Traffic light usage in industrial settings tends to meet a lot of opposition on account of their seemingly difficult and costly installation. However, as our regular conversations with our clients prove, this is not necessarily the case. On the contrary, traffic lights can be a great ally to prevent accidents at work and improve occupational safety in all types of industries.


In this article we would like to present four solutions that prove that traffic lights can help us solve different problems in our daily activities:
Traffic Control System (TCS). A practical tool to helps prevent accidents at work consisting of a comprehensive traffic control system capable of differentiating pedestrians from forklifts. Given that it does not rely on batteries or mobile devices, and that it works in a totally passive way, the TCS does not require any human attention, constant maintenance, or usage monitoring.


PCS Solution. This system warns forklifts through traffic lights of the presence and eventual crossing of pedestrians in their immediate vicinity. Thanks to this system, the operator who is handling a load and concentrating on driving heavy vehicles can be alerted of the proximity of a pedestrian and take precautionary measures. This significantly helps reduce accidents and the risks of running over pedestrians.


BS Solution for areas with no visibility or blind spots. This device minimises the risks of collisions between forklifts and pedestrians and prevents collisions between forklifts in areas of limited visibility. By way of a system of traffic lights and tags, the BS solution indicates the right of way for drivers and pedestrians. The tags carried by pedestrians and forklifts emit light signals when an activator detects them. Subsequently, the traffic light will indicate the right of way.


NAS (Narrow Aisle Safety) Solution. A tool designed to minimise the risks of collision between forklifts in reduced space areas. A traffic light warns forklift drivers when another vehicle is detected in a confined area. The forklifts incorporate coded reflective bands which – when detected by the sensors -, activate the traffic lights installed in the corridors. From that moment, and while the truck remains in the aisle, the traffic light will indicate its presence in the area to the rest of the vehicles or pedestrians that approach the place.


Are you keen to find out more about any of these solutions?
Do you need advice on any of our products?
Don't hesitate to contact us.