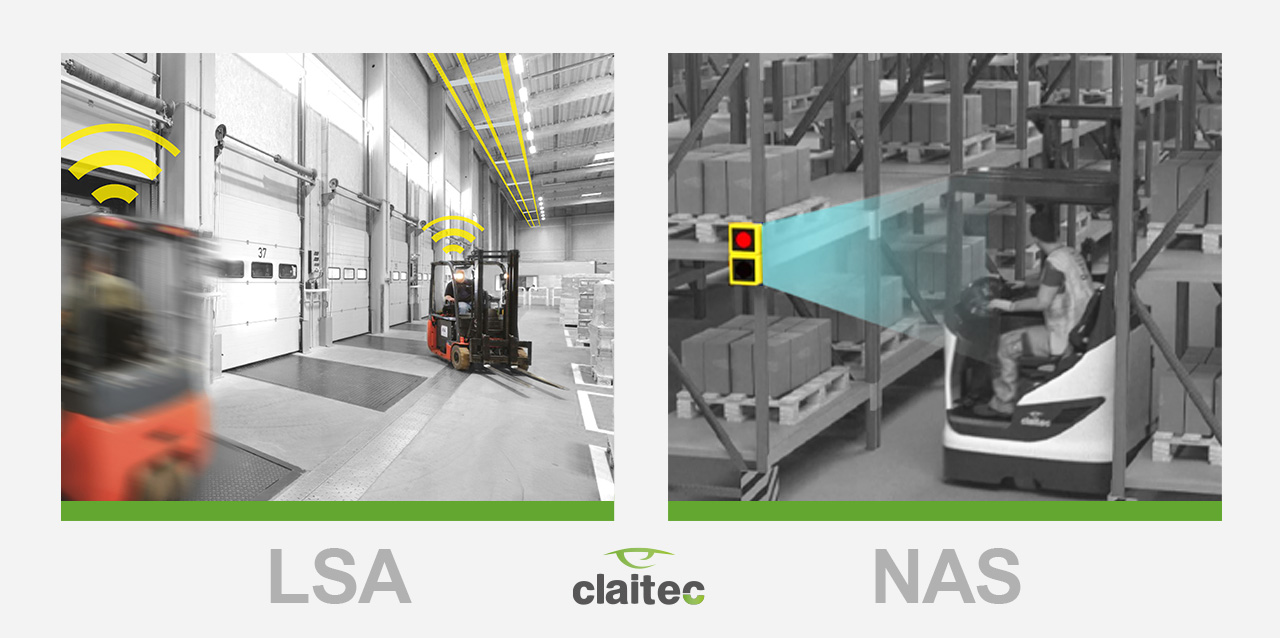 Being able to organise everyday movement in industrial spaces is a fundamental part of achieving better results in terms of occupational safety, reducing risks, and avoiding workplace accidents.
That's why in this post, we would like to highlight two of the tools in Claitec's catalogue that are designed to help us achieve greater efficiency in this aspect.


1) The LSA (Low Speed Area) Solution: an electronic safety system whose main function is to limit the speed at which forklifts circulate.
This system is specially designed to complement the safety tools of forklifts and reduce their speed in areas where there are employees on foot and other pedestrians.
The LSA solution is a great ally in reducing accidents, collisions, and impacts between vehicles, often caused by speeding.
Once the system is installed, its operation is very simple and it requires no action on the part of the operator: the forklift equipped with this solution reacts when entering an area where the use of the system was determined, and thus activates a signal that leads it to adapt to the established limit, which it may refer to as a "slow" or "fast" zone. This helps organise traffic and operations, as well as preventing accidents.


2) The NAS solution for Narrow Aisle Safety, is designed to minimise the risks of collision between forklifts in limited space areas. The NAS system warns drivers, through a traffic light, of the presence of another vehicle in a narrow aisle.
The forklifts incorporate coded reflective strips for this purpose which, when detected by sensors, activate the traffic lights installed in the corresponding aisle.
From that moment on, and as long as the forklift remains in the aisle, the traffic light indicates its presence in the area to other approaching vehicles or pedestrians.
It is an easy-to-install tool, extremely robust and durable.


Should you have any questions, specific inquiries, or to obtain more information about our solutions, please do not hesitate to contact us. We are here to help you!