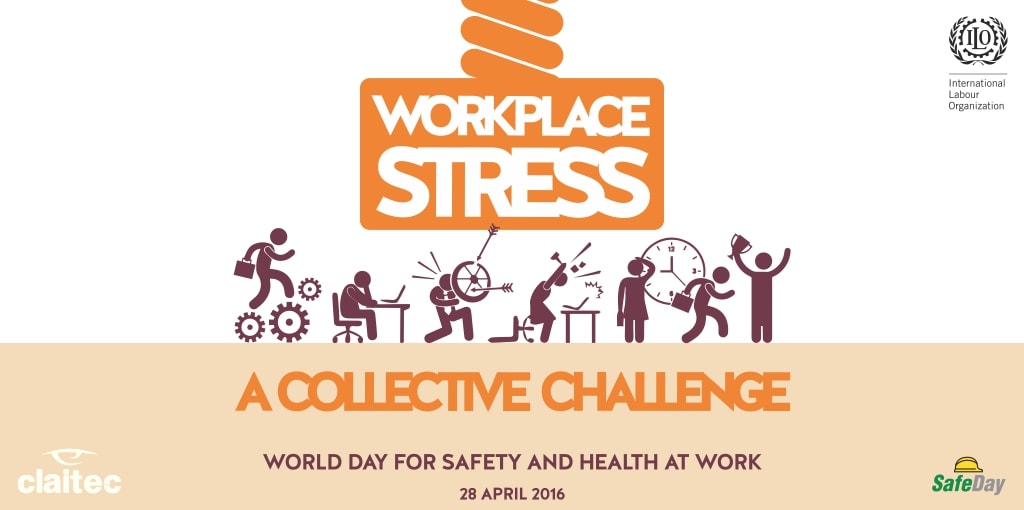 The International Labour Organization (ILO) celebrates today the World Day for Safety and Health at Work.
This year, "Workplace Stress: a collective challenge" is the theme of the campaign of the World Day for Safety and Health at Work.
WHAT IS WORK-RELATED STRESS?
Stress is the harmful physical and emotional response caused by an imbalance between the perceived demands and the perceived resources and abilities of individuals to cope with those demands.
Work-related stress is determined by work organization, work design and labour relations and occurs when the demands of the job do not match or exceed the capabilities, resources, or needs of the worker, or when the knowledge or abilities of an individual worker or group to cope are not matched with the expectations of the organizational culture of an enterprise.
A COLLECTIVE APPROACH TO PREVENTING AND CONTROLLING THE CAUSES OF WORK-RELATED STRESS
Implement collective risk assessment and management measures for psychosocial risks as it will be done with other workplace risks.
Adopt collective and individual preventive and control measures and engage workers and their representatives in their implementation.
Improve the coping ability of workers by increasing their control over their tasks;
Enhance organizational communication.
Allow workers' participation in decision making.
Build up social support systems for workers within the workplace.
Take into account the interrelation between working and living conditions.
Assess the needs of the organization by taking into consideration organizational, individual and individual/organizational interactions when evaluating workers' health requirements.
The team at Claitec wants to join the ILO in celebrating the World Day for Safety and Health at Work. We also want to encourage all businesses to take care of their most valuable asset – people. And if profitability levels improve as a consequence, well, that's just good news for everyone!