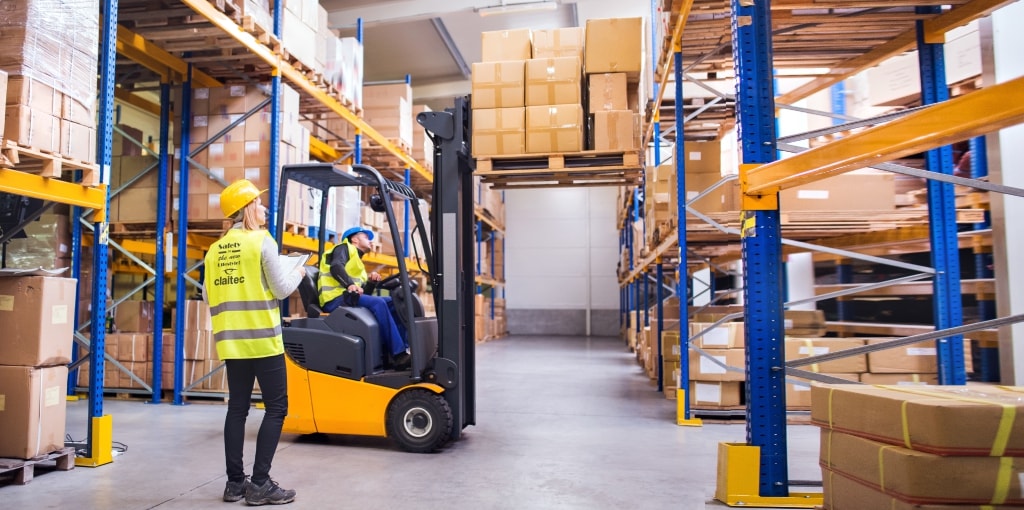 A company that aims to provide quality services according to market demands and needs should know their customers and do their utmost to put themselves in their place. It is a company´s duty to listen to their audience, find out what their difficulties are and work towards providing effective and safe answers. This is definetely our goal at Claitec.
That´s why today we´d like to share three solutions we´ve created after analysing the needs brought forward to us by our customers.
1) Case Study 1 – The LSA Solution:
The LSA (Low Speed ​​Area) solution allows us to limit the speed at which forklifts circulate in different areas of our warehouses.
This tool is specially designed to reduce forklift speed in areas with pedestrian and/or worker activity.This tool was conceived after noticing – in conjunction with our customers – the high rate of accidents and collisions caused by heavy vehicles that did not see or stop in time before pedestrians. The LSA Solution is a key ally in spaces with high intensity forklift movement and with a significant presence of personnel.
2) Case Study 2 – The TCS Solution:
GSK approached us to share some concerns regarding safety at its plant. Problems such as the segregation of pedestrians and forklifts, the scarce distance existing to manoeuvre, and the possible negligences that could occur in an intersection. They also mentioned they had analysed other options, but that nothing appeared to be an appropriate solution.
In this framework our team at Claitec started working in conjunction with the GSK professionals and managed to solve their challenges. According to the representatives of the firm, "we set up a customised system that solved all their deficiencies". That result was the Traffic Control System (TCS).
This tool configures an integral traffic control system without having to depend on batteries or mobile devices, and works passively – that is, it does not require human attention. The system provided solutions to the concerns of the firm, managing to segregate pedestrians and forklifts, blocking the movement of gates that hinders the passage areas, and alerting drivers to avoid blind spots.
3) Case Study 3 – Detection of doors:
This is a product developed after listening to several customers who recorded accidents by operators who failed to notice several doors ajar or closed. Very often, workers assume that traffic is to be clear and focus on the load they are transporting or on the dynamics of the environment. This causes them to end up colliding with industrial doors or gates.
For this reason, we develop a system that activates itself when a truck approaches a door, and tells the driver if it´s closed or not open at all, in case he or she did not notice it yet. When the truck approaches a door, whether it is completely closed or not properly closed, a light and / or acoustic warning is sent to the driver, thereby consolidating a tool that has already greatly reduced this type of accidents.
If you are also facing any kind of safety challenge in your company or industry, if there are any concerns that you cannot solve and are constantly generating headaches for you, don´t hesitate to contact us. We can work to provide a solution tailored to your needs.