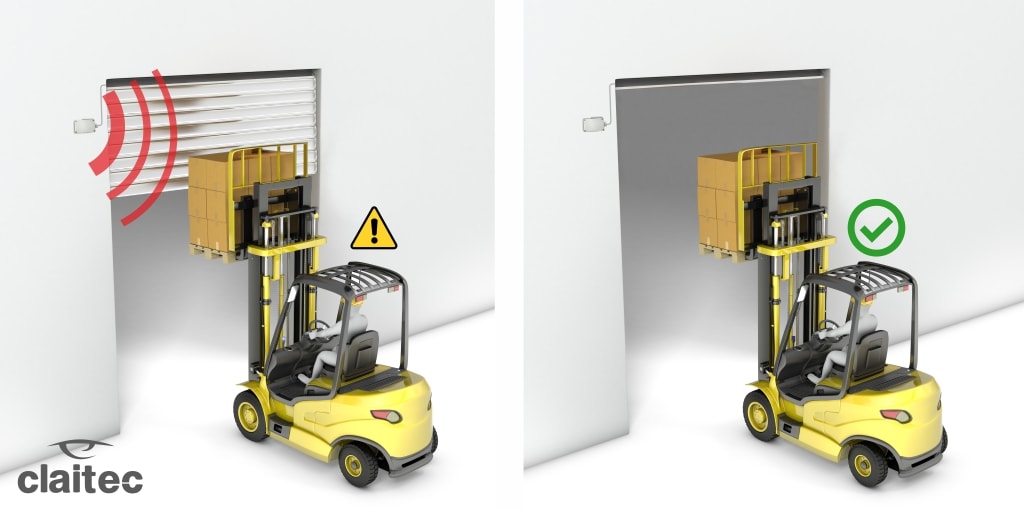 Our daily work in the industry requires us to work seriously and professionally in the field of occupational safety. We must be attentive to all aspects of our work and continually add to our efforts to avoid accidents and provide better conditions to everyone operating in the area.
However, we can and should rely on the latest developments brought about by today's technological advancements. Thanks to the work of all our specialists we are also able to reduce risks and implement new prevention tools closer to those who coexist each day with the intense operation of industries of the most diverse types.
Claitec has also developed a new product that responds to the requests we have received on more than one occasion from our customers. It's a system that gets activated when a forklift approaches a door, warning the driver about whether the door is closed or ajar, just in case the operator has not noticed it in a timely manner.
When a forklift approaches a door, either closed or ajar, a light and / or acoustic warning is sent to the driver, having previously installed a bidirectional Tz2 Tag on the door and the PAS solution on the forklift.
Thus, if the door is closed or ajar, the Tz2 Tag sends a signal through the PAS system to the approaching forklift. The PAS system immediately turns on the light beacon and / or the acoustic mode alarm warning the driver and alerting him or her to the situation. And, when the door is fully open, the  Tz2 tag stops sending the signal.
We felt the development of this product was necessary after some customers reported accidents at work caused by workers who had failed to notice some doors ajar or closed. It's not uncommon for the worker to assume that some transit points had to be cleared, concentrating on the load being transported or paying attention to the dynamics of the environment, and ends up colliding with the industrial doors or gates. We are convinced Claitec's new development puts an end to this type of accidents.