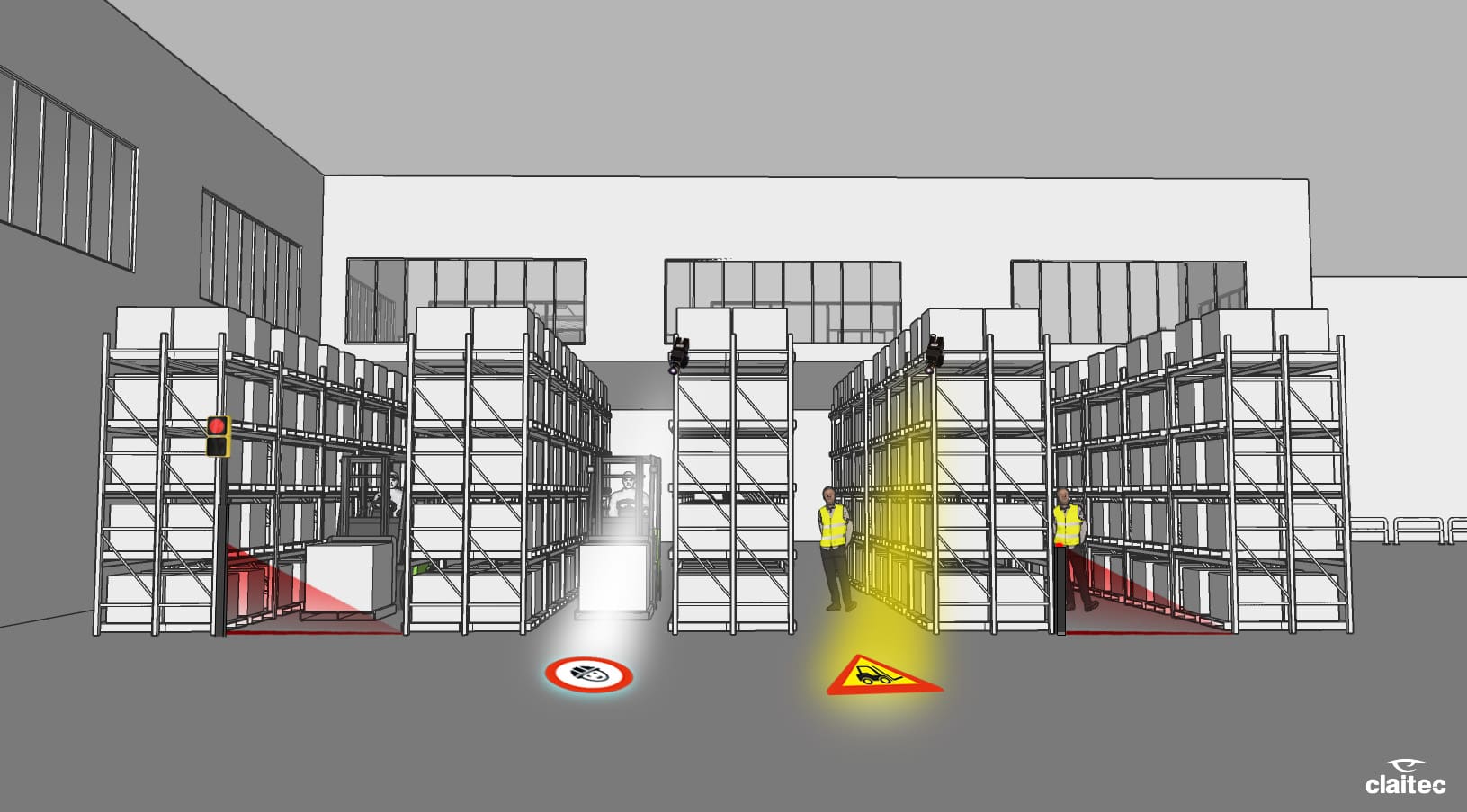 Narrow aisles are a challenging component of our workspaces. Operations must be agile and efficient in these spaces, and yet, we must never neglect human safety and care. After listening to some of our clients' most frequent concerns, the team at Claitec has developed a range of solutions – by taking into account the dynamics operator-machinery – that considerably improve safety in these areas and prevent accidents at work.


What issues do our solutions resolve?
1) Detection of machines. Our tools detect whether a machine enters or leaves a narrow aisle. After the detection takes place, we alert drivers of the presence of other machines by means of a traffic light, a pilot light or a projection on the ground, warning them that the aisle is occupied and there's a risk of collision.
2) Detection of pedestrians. We have also developed products that are not only capable of detecting people in aisles, but also the exact number of people. If more than two operators have entered an aisle, a traffic light, indicator light or projection on the ground will warn of a potential risk until they all leave, preventing machines from entering and potentially colliding with others.
3) Detection of machines and pedestrians. In those common areas where machines and people tend to interact, our solutions are capable of identifying if a person or vehicle has entered a narrow aisle, warning others by means of ground warning projections. Once the aisle is free, the projector stops displaying the alert signals.


Which Claitec solutions are designed to provide safety in aisles?
VSG Solution: A virtual safety gate is activated when passage is prohibited in a certain sector or intersection by projecting a red alert line on the ground. The VSG solution can be easily placed at each entrance to alert forklift drivers when other vehicles or operators are moving along the same aisle.
VAS Solution: Our Safety Alert Visualisation warns pedestrians and/or forklifts in risky situations by projecting alert signals on the ground. It is very easy to install, and it is extremely effective in preventing accidents.

Traffic lights: A simple and effective tool designed to keep traffic in our workspaces in order. It can be adapted to multiple other safety solutions, and it can be of great help in different areas of any industry – from warehouses or loading docks, to aisles, entrances and exits.


Would you like to find out more about Claitec's safety systems?
Do you have a specific question or need more information about any of our solutions?
Please, do not hesitate to contact us, we are here to help!