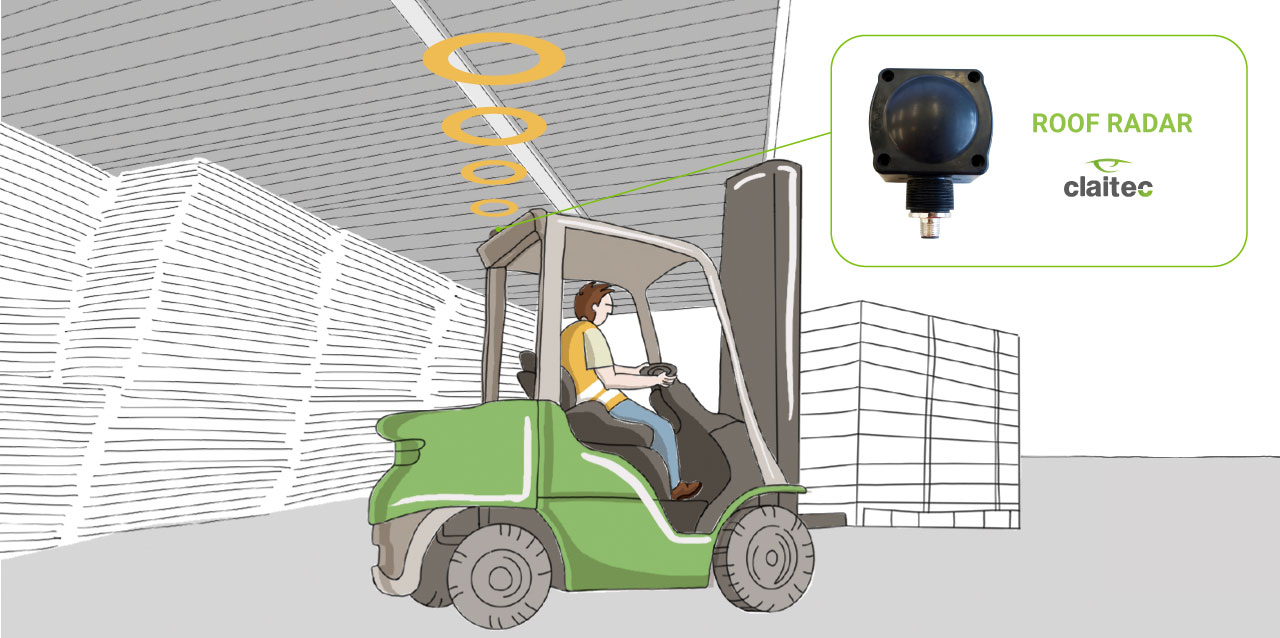 The coexistence between forklifts and pedestrians is one of the most challenging aspects of the safety of our workplaces. The team at Claitec is continually devising ways to help us overcome the risks that it generates. We know that speed is related to safety, but we are also aware that productivity demands are important, and our latest solution finds the perfect balance.

Meet, the Roof Radar!

Roof Radar is a safety system that automatically reduces the speed of a vehicle when it enters a building. As soon as the radar detects a roof, it immediately selects the low speed on the forklift until it leaves that space again.
In other words, the forklift can return from carrying out tasks in an open space without pedestrians, such as the loading and unloading of merchandise on a beach, and as it enters the warehouse or work area where there are pedestrians about, it will automatically modify its speed without requiring any action from the driver. The Roof Radar prevents the possible negative effects of a forgetful or distracted operator in relation to the speed of the machine.


The Roof Radar complements the safety features of the vehicle and can be integrated into any type of forklift. Thanks to a sensor based on radar technology, this innovative solution from Claitec is capable of detecting superstructures (i.e. ceilings) in a range of up to 24 meters.
The Roof Radar comes with four settings for radar's reaction time and eight settings for its detection range, which means that this device can work even in the most complex operating conditions. The sensitivity of the transmitter ensures that small superstructures such as bridges, tree canopies and pipes do not cause any unnecessary reduction in forklift speed.


The device can be easily installed in the driver's cab or on the vehicle's protective roof. The detection zone distance, sensitivity and output settings can be easily selected on the Roof Radar.
Should you need more information on how to improve your levels of occupational safety, please don't hesitate to get in touch.
The team at Claitec is here to help you.