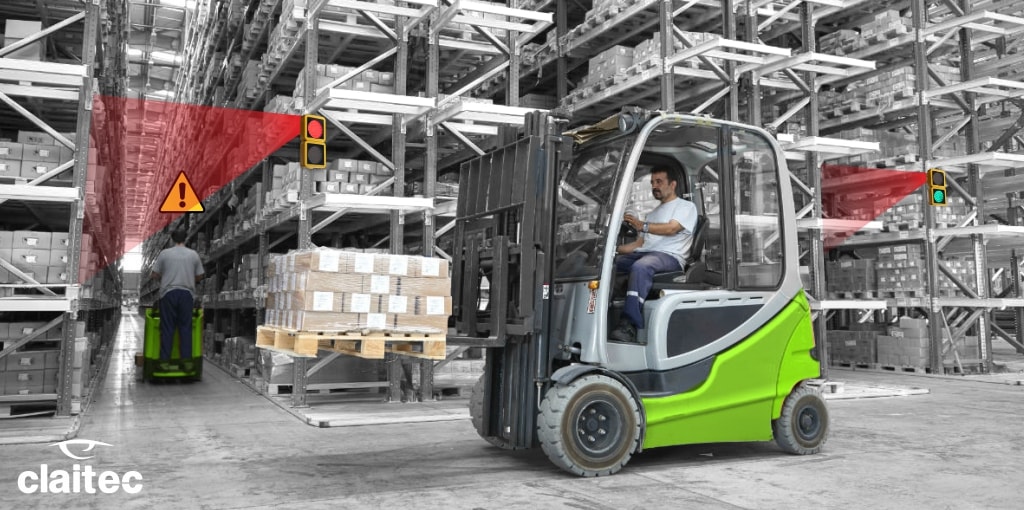 Storage spaces, industrial areas or truck loading and unloading areas are just some of the work sites where there never seem to be enough square meters to work on. From the forklifts, to the operators and the merchandise itself … all these elements create overloaded, narrow spaces where both control and prevention become key to averting accidents.
To help you tackle this kind of difficulties in your workspaces, we'd like to tell you today about the benefits of the NAS Solution for safety in narrow aisle – a highly sought-after product amongst our clients who always comment on its great performance.
The NAS solution warns forklift drivers – by means of a traffic light – when another forklift is already located in a zone considered to be of limited space. This development is especially useful in areas where forklifts commonly cross or manoeuvre and spaces with high intensity traffic of industrial vehicles, especially for retractable and trilateral forklifts.
The forklifts incorporate reflective coded bands that when detected by the detection sensors activate the traffic lights installed in the aisle. From that moment, and while the truck remains in the aisle, the traffic light will indicate its presence in the area to the rest of the vehicles or pedestrians that approach that place, avoiding collisions or risk situations in spaces where manoeuvres of any kind are significantly reduced.
The NAS solution stands out for its easy implementation: it only requires coded reflective strips for the forklifts, a code detection sensor, the control unit and a traffic light. In addition, the elements in this system stand out for their durability and robustness.
We invite you to find out more about the NAS system here.
Any questions?
Don't hesitate to contact us here.