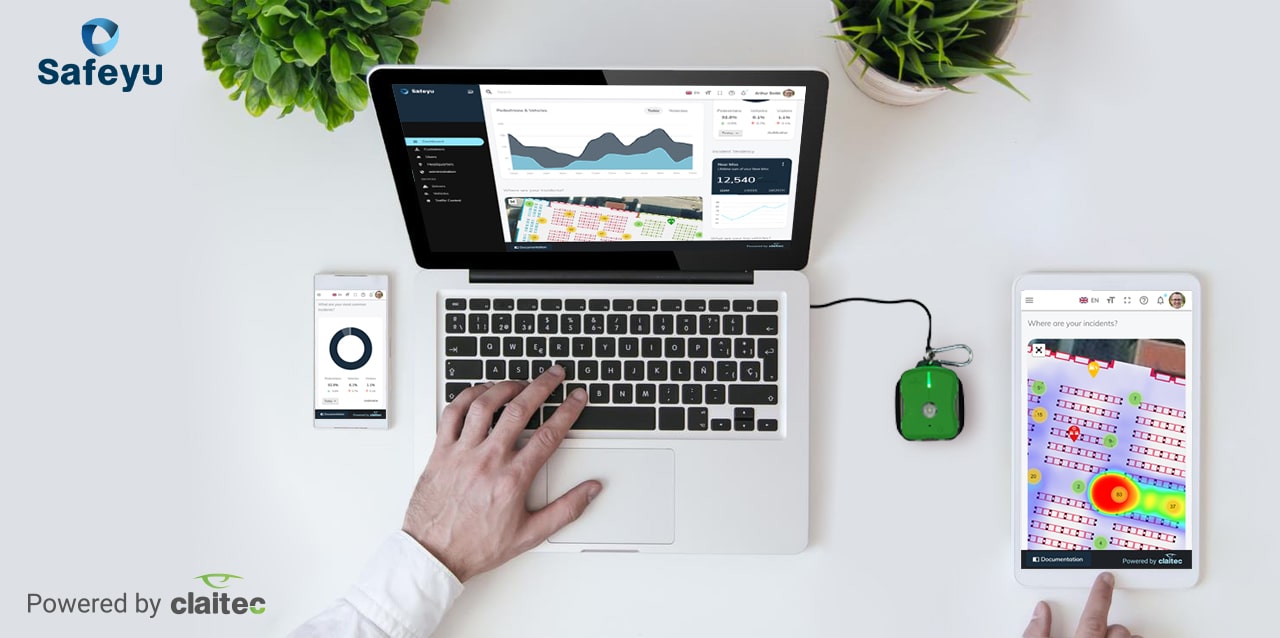 Claitec  is proud to introduce Safeyu, an innovative solution designed by our team to prevent occupational accidents. Safeyu connects workers, vehicles and machines to easily identify risk situations in real time and preventively warn the person/s at risk.
Safeyu is a modern, practical, and powerful product that allows logistics companies to ensure and control the safety of their workers, minimising any potential risk. Thanks to all the devices developed by Claitec, all the activity that occurs in the company is recorded and can be monitored from the Safeyu platform.
From the Safeyu website, the company registers its workers, its machinery, its devices, and its headquarters in order to later be able to keep track of all of them and draw key conclusions in terms of prevention, health and occupational safety.


The home page shows different graphs corresponding to the data coming from the devices, be it accident details, potential accidents, or indicators of change status of a device, for example. In addition, this section allows the person in charge to get an idea of ​​the general circumstances of the company to take preventive measures for the future.


In the users' section, you can access the list of people authorised on the platform, allowing you to individually see the data and events in which they have been involved, as well as being able to configure settings.


In the sites section you can see the company's different locations, with their corresponding buildings and floors, a map a tracking the vehicles, the events that have occurred in a certain period of time, heat maps, and even the location of traffic control devices – just to mention a few possibilities.


We have grouped the devices into three categories:
Firstly, we find the drivers where the tags are registered, as well as permissions can be assigned or rejected, we can also see the checklist and login records.


Secondly, we find the vehicles. We can also access all detections and impact records from the devices installed in machines.


Lastly, would be the building infrastructure which allows the devices of the infrastructure to be seen, which are located at a fixed point and manage the traffic.



Do you have any questions about Safeyu or any other of Claitec's products? Get in touch! We are here to help!