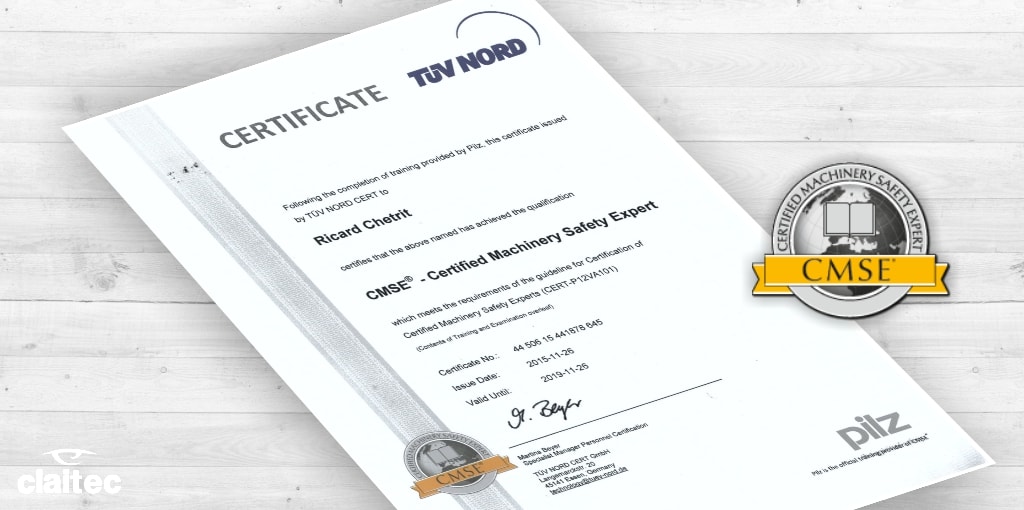 At the core of our mission to constantly improve the solutions offered at Claitec, there's a deep understanding of the needs of our customers in the field of industrial safety. These needs are continually changing, even more so in an environment in which technology evolves at such dizzying speeds.
To keep pace with all these developments, at Claitec we have launched a new training process in machine safety, with the objective that all our technicians become certified as safety experts through a program called Certified Machinery Safety Expert.
CMSE® Certified Machinery Safety Expert
The German TÜV NORD offers the CMSE® Certified Machinery Safety Expert Certificate in response to the rise of new automation and robotics of the last decade. Companies are equipping themselves with modern and complex machines, resulting in a need for greater capacity and knowledge to develop a safety strategy in the use of machinery by operators.
Machines are constantly redesigned to ensure maximum safety but part of the responsibility always lies with whoever operates them. In completion of the CMSE® course, the TÜV NORD will grant each participant a certificate attesting to their diversified knowledge on the safe use of the machines.
Upon completion, the course will allow participants to be able to evaluate and implement the safety standards required by the plant and its machinery. In addition, it also covers the entire life cycle in the operation of the machinery – from the moment when risks are assessed and the first safety concepts are developed, to the implementation of the strategies and their correct application is ensured.
Implementation
Chetrit Ricard, Managing Director of Claitec, was the first of our technicians to obtain the CMSE certification. The company aims at having all Claitec technicians obtain this certification.
"The Certified Machinery Safety Expert course has made me a lot more capable in all areas pertaining to the safe operation of machinery. The technicians teaching the course approved by the TÜV proved highly skilled in the subject. Their dedication to the matter motivated all participants to continue learning. The size of the groups allowed for great participation in the practical examples, while being big enough to encourage debate and discussion with people holding different perspectives."
Ricard Chetrit, Managing Director at Claitec