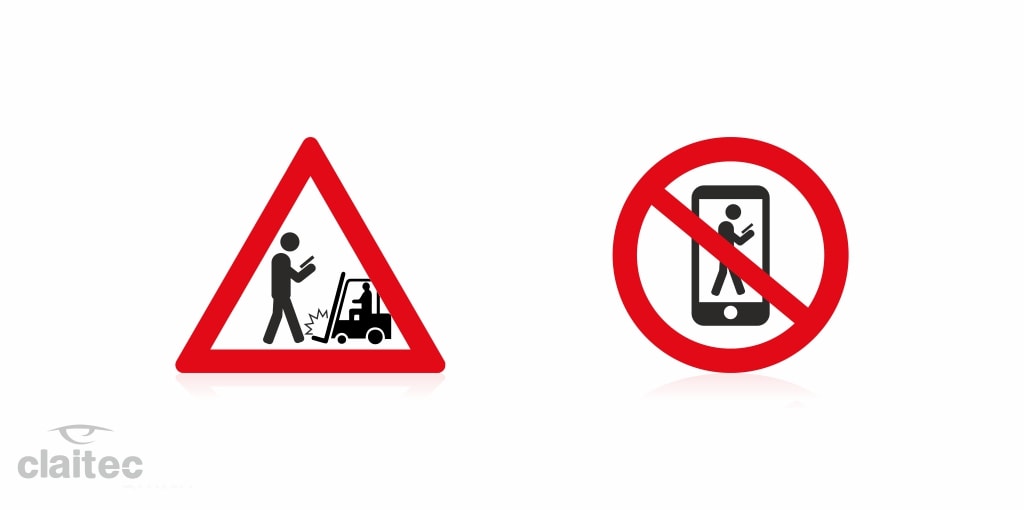 Both governments and the general population are gradually becoming aware of the new risks that have arisen as a result of the habits brought about by the new technologies. In 2014, the National Security Council warned that about 26% of traffic accidents in the United States were caused by mobile phone use.
The Seoul government in South Korea has also taken a series of steps by installing traffic signs alerting pedestrians of the existing risk. The aim is to educate people about the emergence of these new type of hazards.
Meanwhile, industrial warehouses, where pedestrian also converge with various modes of transport, are not alien to this reality. It is increasingly common to hear about an accident or collision triggered by a mobile phone distraction. The risks cover both pedestrians and machine operators.
The risks are many – from collision between forklifts, to forklifts running over pedestrians, accidents in unloading areas, or high risk falls. In addition, distraction is not only a risk in as much as it can directly lead to serious accidents, but it can also trigger them indirectly. For example, a mobile phone can make an operator forget to properly use the fall protection system or the personal tag.
Warehouses should react to these changes in habits
Both companies and workers must be aware of the impact that this type of changes has in people's everyday behaviour and take action accordingly.
Of course, we are not implying that mobile phones are not a good technology, but there is no denying that these can become dangerous depending on how they are used. The problem is that it is a habit that is established increasingly in new generations, making them less aware of the risks.
Similar to the warning signs posted by the Seoul government, is it not time for warehouses to do something similar? Given that warehouse are much smaller spaces than a city like Seoul, we could even go a step further and establish strict and clear rules regarding the use of mobile devices in warehouses and factories.
Keen to learn more about how to reduce the risk of accidents in a warehouse or factory?
Don't hesitate to get in touch with the Claitec team and we will be more than happy to share our expertise in this matter.