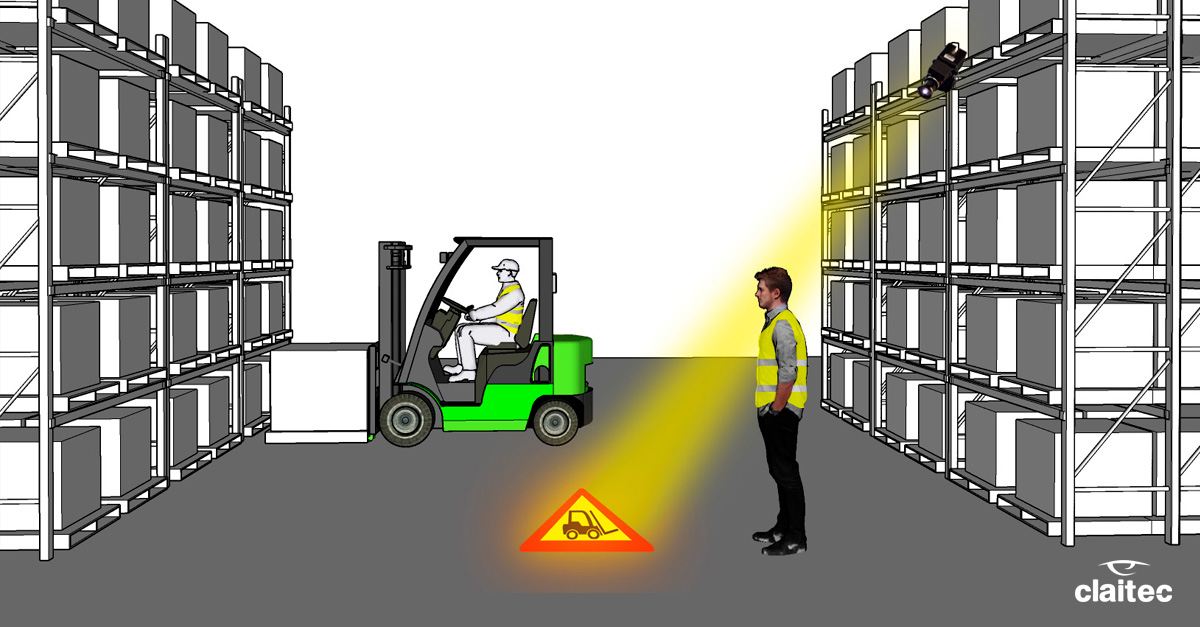 At Claitec, we are convinced that a product speaks for itself once it is installed and producing positive results in the industrial space for which it has been designed. Claitec's VAS System has provided ample evidence of being a simple, but very efficient solution to organise traffic and prevent workplace accidents.
The VAS (Safety Alert Visualisation) systems is designed to warn pedestrians and/or forklift drivers of a potentially risky situation by projecting signals on the ground. These signals are highly visible to operators and easy to detect, which is why they become extremely useful in spaces with high pedestrian volume and loading machines, such as forklifts.


This system stands out from other signalling options for several reasons, including the following:


Highly effective visible system. The VAS System's signals stand out before the panoramic mirrors and other signs traditionally used in warehouses many of which end up becoming part of the general landscape of the site, and people stop paying attention to them.


More visible and long lasting. The projections on the ground attract more attention and achieve better visibility than the warning signs located at a certain height – usually placed too high to be seen during the daily operations. In addition, compared to images painted on the floor or walls, there is no wear or tear from daily work or the passage of time, and it has very little maintenance, providing about 30,000 hours of operation.


Recommended complement. Besides all of the above, the VAS System can also be used as a complement to the PAS System, the CAS-G2 and the LSA – just to mention a few of other solutions – thus generating safer work environments for all.


Possibility to change the lenses. The VAS' projector lenses come in up to three different colours, and the projected symbols are customisable. Some of the possible projections include a forklift or pedestrian signal, a "stop" sign, a pedestrian crossing, a speed limit warning, a "non-smoking" sign or "mobile phone use" notice, among many other options.


Should you be interested in finding out more about our range of industrial safety solutions, please do not hesitate to contact us, we are here to help!