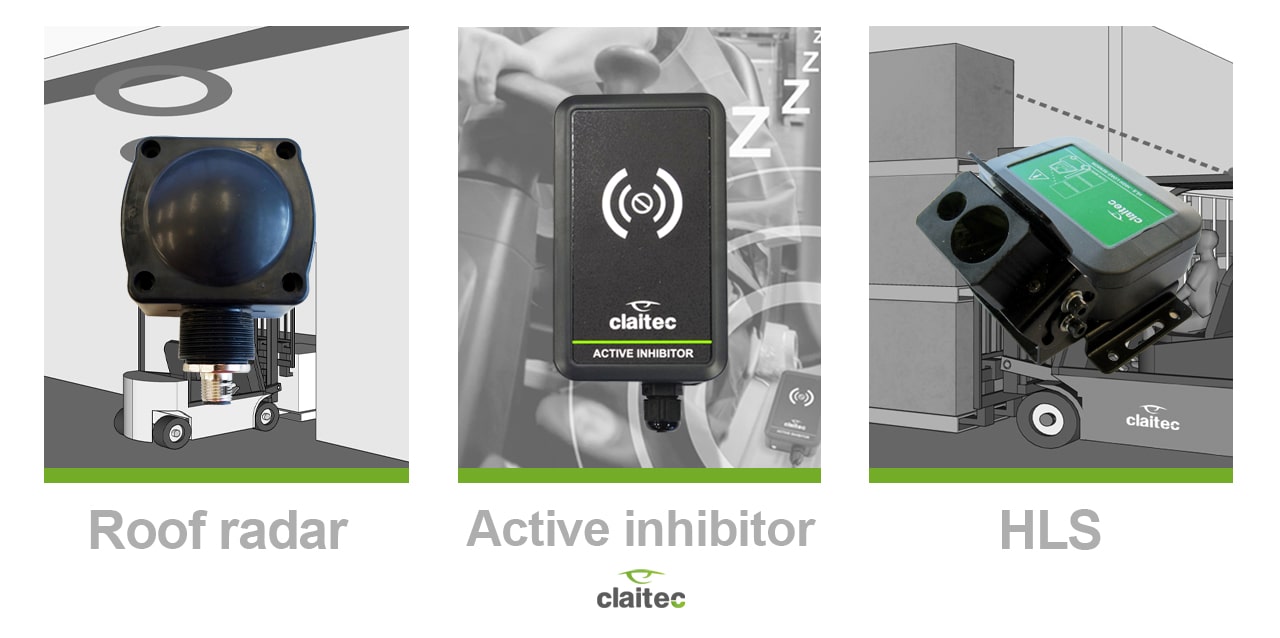 Forklifts play a key role in our industries. Ensuring their safe, effective and accident free functioning is a constant challenge. At Claitec we always seek to take a step forward with our solutions developing improvements that create safer and more efficient work spaces. In this article, we'd like to introduce you to three of the tools developed by the Claitec team to enhance the operation of forklifts within industrial spaces:


The Roof Radar safety system automatically reduces the speed of a vehicle as it enters a building. As soon as the radar detects a ceiling, it immediately selects the low speed on the forklift until it leaves that space again.
Thus, the forklift can return from performing tasks in an open space without pedestrians – such as a merchandise loading and unloading area -, and return to the warehouse or a work area with pedestrians, to have its speed automatically modified without requiring any action from the driver. This prevents the possible adverse effects of forgetfulness or distraction of the operator in relation to the speed of movement of the machine.


The active inhibitor, on the other hand, is an electronic device that is installed next to the forklift's driver's seat to inhibit his/her key rings when entering the vehicle. This way, the drivers' key rings are not detected and for the rest of the systems operating it appears that only the forklift is circulating, thus preventing problems or crossed detections that reduce the effectiveness and pace of work.
In other words, the way this tool operates allows the driver to drive the forklift safely and keeping the Pedestrian Detection system activated, in order to prevent accidents with other people who circulate in the work area or adjoining spaces.


Finally, the HLS High Load Sensor warns forklift drivers as soon as it detects that the loads picked up exceed the permitted heights or predefined measurements. Specifically, the driver of a forklift that incorporates the HLS system gets a luminous and sound alert when taking on a load that exceeds the limited allowed, thus preventing him/her from moving in a way that would be unsafe and could lead to an accident.
Do you have any doubts about these devices? Is there anything we can assist you with? Please, don't hesitate to contact us!