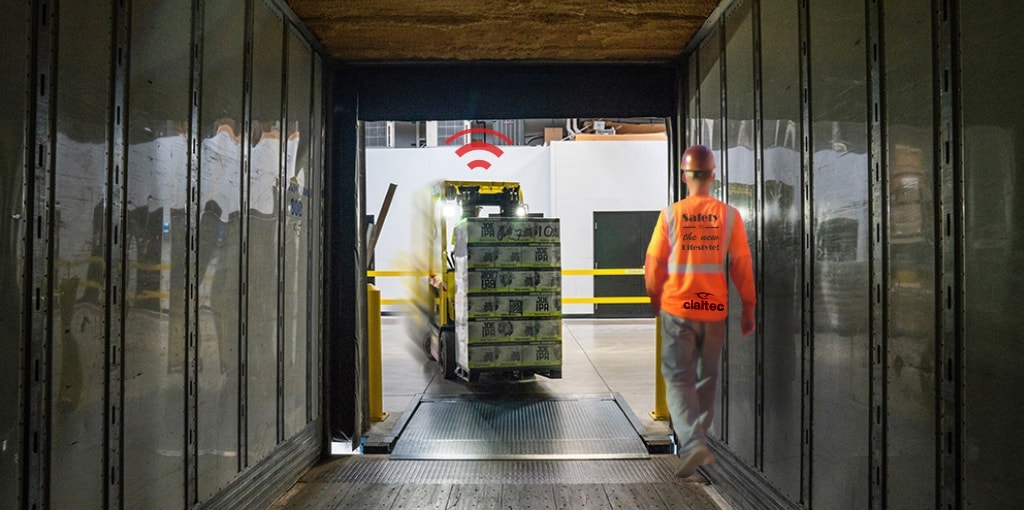 We work in spaces where establishing order is not always easy.
For instance, a lot of effort is required to ensure that areas with a high volume of traffic and pedestrian movement become efficient, risk and accident free spaces. Other examples we can think of would be container facilities, or truck loading and unloading areas but surely you can identify a space of these characteristics and similar challenges in your own industry.
In this post we'd like to introduce 3 very useful tools that will improve operational safety and efficiency in those type of sites:
1). LSA System for Low Speed Areas. A device installed in the forklift design to automatically detects in which zone a speed limitation signal is located. It uses a panel of very durable coded reflective strips that is easily placed above the doors in the work area or in areas where a change of speed is required.
By using this system, slow and fast zones are clearly defined and when the forklift passes by a previously installed speed change panel, the sensors automatically detect these signals and generate the corresponding change in the vehicle's gear.
2). The Traffic Control System (TCS) is an integral system which doesn't depend on batteries and mobile devices. It works completely passively, that is – it doesn't require human attention. This system allows us to keep pedestrians and forklifts in separate spaces, in addition to alerting forklift drivers of the existence of blind spots.
The TZ2-Tag devices are placed in the warehouse to detect the vehicles equipped with the AC-50 Activator. Traffic lights, signalling beacons, safety gates and handrails are also installed to segregate pedestrians and keep the operation and the dynamics of the transit of the area in order.
Therefore, when a vehicle enters the safety zone delimited by the TZ2-Tag, the vehicle and warehouse lighting warnings are activated to alert them to its presence. At the same time, the pedestrian traffic light is set to red and blocks their access through the security gate. Once the forklift leaves the safety space the traffic light automatically turns green and the gates are unlocked.
3). The CAS Collision Avoidance System is a durable, robust and easy-to-install solution that warns forklift drivers when it detects another vehicle at distances of up to 25 meters.
All industrial vehicles are compatible with the PAS AC-50 activator, a device that helps driver to avoid accidents or risks of impact in spaces where there's significant transit. Pedestrian presence and large loads.
If you would like to receive more information about the systems mentioned in this posts, or if you are thinking about improving the safety in your company, don't hesitate to contact us.