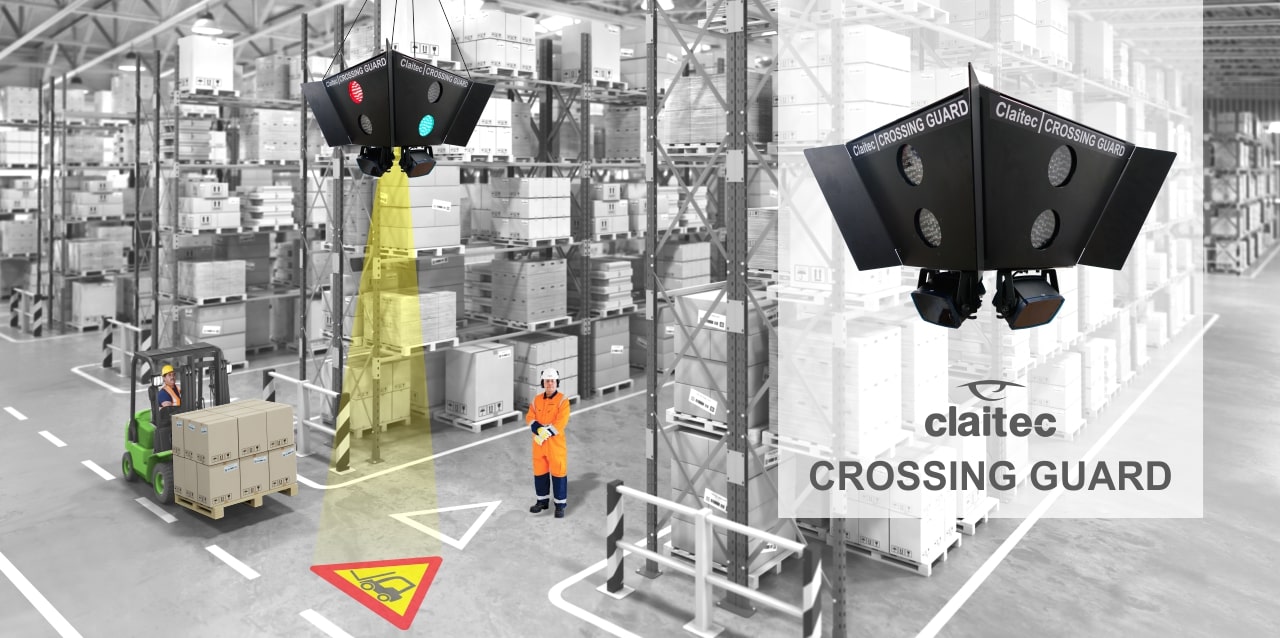 We all know that intersections in warehouses are high risk places where occupational safety problems, collisions or similar accidents take place frequently. In this post, we will be discussing the many benefits of the Crossing Guard system, an innovative solution currently generating tremendous results in the prevention of accidents in industries.


The Crossing Guard is installed in the upper areas of a warehouse to help prevent collisions at intersections. Specifically, the operation of this device is based on the cargo vehicle or the operator approaching the intersection area receiving visual alerts from the traffic lights and the image shown by the VAS projector, indicating whether they have permission to cross or otherwise, thus providing further safety information for the user to make a decision that can help him or her prevent an accident.


This solution – developed by Claitec at the express request of one of our clients – borrows some of the elements already present on the market, while incorporating a series of unique developments and innovations from our own company with the goal of achieving a product that really makes a difference in terms of improving job safety levels.
The Crossing Guard device uses radar technology capable of differentiating persons from vehicles and identifying whether a forklift is approaching an intersection or if it is moving away from it. With this modern technology, it is no longer necessary for operators or vehicles to carry a device to be detected since the system locates them on its own.
This is also a programmable system which can not only be configured to suit the client's needs – the VAS System and several other of our systems such as the PAS and the CAS-G2 can also be incorporated into the Crossing Guard.


A device which also stands out for:
Its robust aluminium structure.
Mounting height of 3 to 7 meters.
Its extremely easy handling even at a height.
A maximum detection speed of 25 km/h for vehicles.


In addition, the innovative separation fins of the equipment's design allow no more than one traffic light to be seen from each angle, in such a way as not to generate confusion. It is easily prepared to be hung by tensioners or using a support with VESA standard holes.


Several models of the Crossing Guard are available, either with Bluespot or with the VAS System which comes in 2, 3 and 4 faces with traffic lights. Our team will gladly recommend which one of these best suits the needs of your workspace.


Do you have any questions about this system?
Do you need Claitec's advice on any other matter?
Please, don't hesitate to contact us, we are here to help!