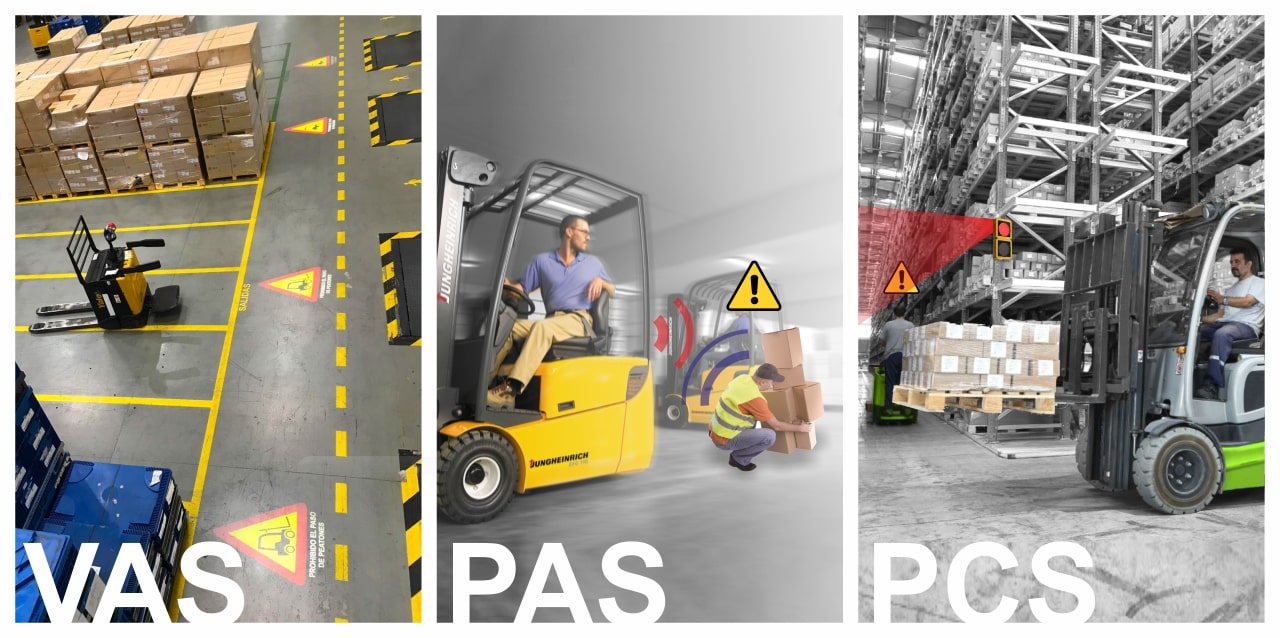 The safe, agile and efficient circulation of operators is of vital importance in our industries. Guaranteeing the integrity of the people who are part of our teams and achieving safe spaces is key as it will not only provide us with better results, but it will also decrease the number of accidents at work.
In this post we'll discuss three systems that allow for a safer pedestrian circulation in our industries.


1) VAS System:
Firstly, our Visual Alert System, an innovative development that warns pedestrians and/or forklifts of any risk situations by projecting signals on the ground. Such signals are very visible to operators and easy to detect. They are extremely useful in spaces with highly frequent pedestrian traffic. The floor signs are a lot more effective than the panoramic mirrors and the posters that are traditionally used in industries as these are generally placed too high to be seen or end up becoming part of the general landscape of the site, and people stop paying attention to them.


2) PAS System:
One of the most sought-after systems at Claitec, the Pedestrian Alert System (PAS) warns forklift drivers when a person is detected at adjustable distances of 1 to 6.5 meters. It is a unique system capable of discriminating between people and objects. It even detects operators who are behind a wall or a shelf! The PAS System minimises the number of accidents at work and reduces the very real risk of being run over in our industries. It generates a much safer and more efficient working environment for all. It also complements, in a very simple way, other safety systems.


3) PCS Solution:
A very useful and easy to deploy system, the Pedestrial Cross Safety Solution is designed to ensure the physical integrity of pedestrians in crossing spaces, and it can easily be applied throughout the industry. This tool signals the forklift through a system of traffic lights previously installed in a workspace of the presence and the eventual crossing of pedestrians in their area. It's remarkable how easy the PCS Solution is to implement – apart from the traffic lights, pedestrians circulating in the workspace must carry small tags – similar to a key chain -, which will emit light signals when detected by a previously installed activator. That same activator sends the signal to the traffic lights, which then indicate the presence of the person.


If you would like to find out more about these three solutions, or any of our products, please don't hesitate to contact us.