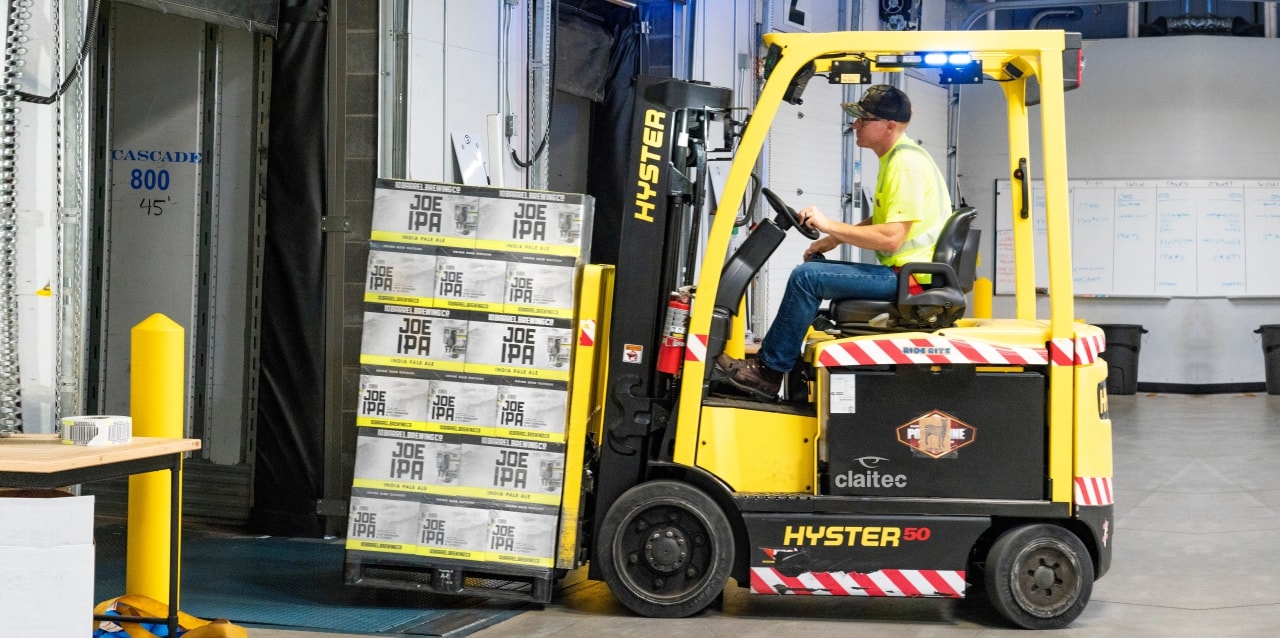 Warehouses are one of the most important areas in any industry.
In a way, they are the neurological centres where workers and machinery converge and where all types of work activity are at its most intense, day and night, often without a pause.
To ensure the efficient management of resources, the overall improvement in operators' safety and to eradicate work accidents, it's vital that a strategic planning of our industrial warehouses be carried out.
A comprehensive look at these spaces and the analysis of existing tools to improve the functioning of these sites will allow us to take very important steps towards safety.


In this post we list 15 key areas in any industrial warehouse, and explain some valuable tools for the improvement of safety and accident avoidance in such spaces:


Vehicle parking. This is the area specifically planned to park company vehicles and industrial machinery. What important safety measures can we take in the parking are? Have one single parking space and concentrate all vehicles in this area. Park all cars in reverse. This is important as it ensures full visibility when removing the vehicles, and it allows for a quick evacuation should it be necessary. You can find out more information about this topic here.


Space for manoeuvring. This is the area intended for work vehicles to carry out all the manoeuvres and necessary tasks for loading and unloading, for docking and undocking the merchandise. In this type of spaces, it's important to support drivers with clear signage and traffic lights as this helps improve the flow and efficiency of work.


Loading and/or unloading docks. While the two previous areas were located outside of the warehouse building, the loading and unloading docks are designed and equipped with the means and space to load and unload the goods in the vehicles in the safest and most efficient possible way. The LSA (Low Speed Area Solution) helps improve safety  in this workspace by limiting the speed limits in forklifts and other work vehicles. The Truck Docking System is also a very helpful and useful assistant in this type of work areas.


Reception Bays. A very high intensity traffic area, this very important space is design to receive and process merchandise and ensure that all goods have arrived according to plan. It is here where operators and forklifts coexist the most, so by using the PAS (Pedestrian Alert System) we will be minimising the risk of having pedestrians ran over and avoiding any type of work accident.


Storage area. This is where the merchandise is to be efficiently and properly stored and controlled, using the storage environment that best suits the characteristics of the products. In these spaces the corridors are the main arteries and, therefore, the proper management of work in such places is essential to avoid errors and gain efficiency. The Narrow Aisle Safety (NAS) solution helps prevent accidents between forklifts in this area while the CAS-G2 forklift anti-collision system warns drivers when it detects other vehicles in nearby areas and/or in risk situations.


Picking area. Here, the customers' orders are prepared. It usually is a space within the area destined for storage, or a separate area on its own. To facilitate the flow and movement of forklifts we recommend the Traffic Control System used in GSK which separates vehicles from operators at work.


Manipulation zone. In this area is where tasks such as re-labelling, shrink wrapping, packaging change and product recovery take place and as such forklift and truck drivers interact constantly. That's why we recommend the implementation of the Pedestrian Alert System or the Low Speed Area solution, to help limit the speed of all the vehicles.


Order control area. A space committed to ensuring the qualitative and quantitative control of the merchandise that has been prepared for the customers.


Dispatch Bay. The prepared and controlled orders are placed here and remain in this space until the loading and shipment time.


Returns area. This is where the merchandise returned or rejected by the customers is stored. Here, reverse logistics are applied.


Battery charging area. Every warehouse has a space specially dedicated to the maintenance and recharging of the electrical handling equipment, as well as to the repair or rearrangement of other tools used in the daily management of the merchandise. In this space, it is highly recommended to use a solution that limits the speed of the vehicles to make the site safer and reduce the number of accidents.


​​Pallets and empty containers area. This is the space dedicated to the storage of pallets and empty containers that are necessary for the storage and preparation of orders.


Administration and services. Every warehouse has a space where all administration and accounting matters are handled. Other similar areas include changing rooms, dining room and smoking room, among many other spaces where operators can rest and ensure their wellbeing. Both the TAG T-10R badge and the PAS Solution contribution enormously to guarantee the personal safety of employees and the reduction of accidents at work. The TAG T-10R is a device that combines dual RFID technology – passive and active which allows our customers to maintain the functionality of existing access control, adding a PAS (pedestrian alert) safety.


Waste area. Here industrial waste is stored, and recyclable, non-recyclable, and hazardous waste matter is divided. We highly recommend the use of the Hazardous Areas Solution solution, designed to prevent operators from falling to pits or conveyor belts and to minimise accidents in presses, crushers and compactors. It also allows perimeter detection in pits.


Other areas. Other work areas are specific to the characteristics and activity of each industry and require customised solutions and measures to achieve better safety at work. These include cold rooms, quarantine areas or valuable storage areas, among many others.


Are you keen to find out more about the application of our tools to you warehouse spaces?
Please, don't hesitate to contact us! We are always here to help.