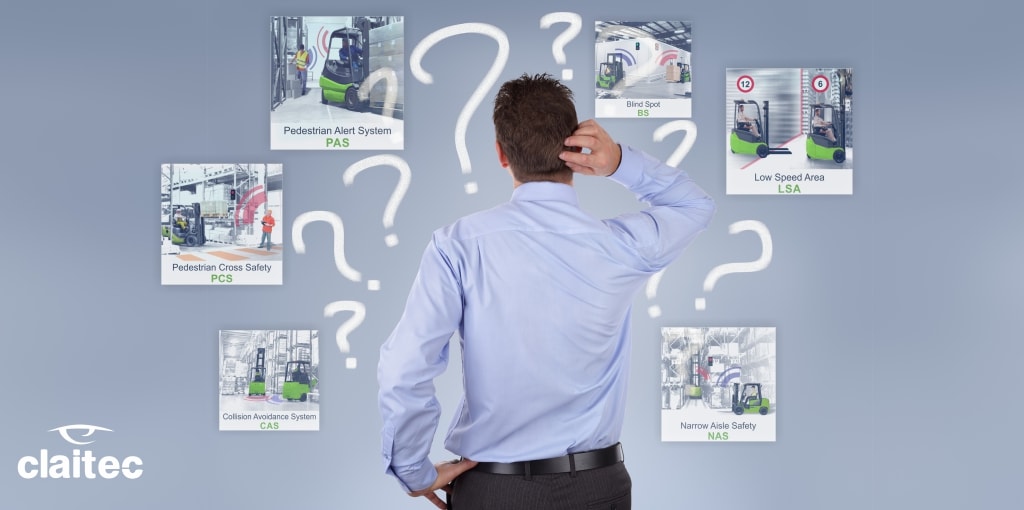 The National Safety Council of the United States of America has published a safety guide on the implementation and operation of mobilised vehicles, including forklifts, pallet trucks, rider trucks, fork trucks or lift trucks.
The document explains that pedestrian safety is often overlooked in lift trucks safety programs and yet, the number one cause of lift truck related work fatalities is pedestrians being struck by the vehicle.
In this document we analyse the main points dealt with in the above mentioned safety guide, highlighting the responsibilities of the different persons involved:
Employers:
Ensure that aisles are wide enough.
Mark aisle ways for equipment and pedestrian walkways.
Keep walkways free from obstructions such as hand trucks and carts.
Mark slow-down locations: intersections, aisle ways, blind corners where doors open to an aisle, loading docks and where lighting is impaired.
Install and instruct operators on how to use convex mirrors where appropriate.
Ensure that only authorised and trained operators operate a forklift. Employers must certify that operators have been trained and evaluated in accordance with the OSHA standard.
Educate workers about the dangers associated with mobile phone distraction while driving and establish a policy for the use of wireless devices and mobile phones in the workplace.
Solutions such as Pedestrian Alert Systems (PAS) and Pedestrian Crossing Safety (PCS) are ideal to ensure total safety in plants where workers coexist with machines.
Forklift operators:
Use warning devices, such as lights, horns and backup alarms. The NAS solution is an example of device that minimises the risk of forklift collision in tight areas.
Slow down, stop and sound the horn at intersections, corners, and where vision is obstructed. The Blind Spot Solution (BS) is ideal for this type of situations while the Low Speed Area Solution is ideally suited to reduce speed.
Do not move the truck if there is no clear view of travel. Use a spotter for blind spots.
When possible, make eye contact with pedestrians.
Do not talk or text on a mobile phone while operating a forklift.
Pedestrians:
Never stop in front of a forklift or a piece of powered equipment.
Never stop in front of a loaded truck to attempt to swerve to avoid being struck. A load being carried could easily tip over or slide off of the lift truck and strike the pedestrian.
Stop and look when approaching a corner before proceeding – look both ways.
Walk on the right side of aisles.
Keep well away from the lift truck and other motorised machine to avoid being pinned by the swing.
Never ride as a passenger on a piece of powered equipment.
Stay away off the tilt mechanism.
Keep hands away from the mast and pulleys on a forklift.
Never walk or stand under the mast or load of a lift truck.
Be aware that the forks of a parked forklift pose a tripping hazard. Raised forks pose a strike-against or spearing hazard.
If on a ramp, be cautious of the hoisting machine. You could be pinned or hit by a load.
Be aware of the stacking procedures. You could be struck by falling loads-on both sides of the racking.
Be aware that a backing lift poses a hazard.