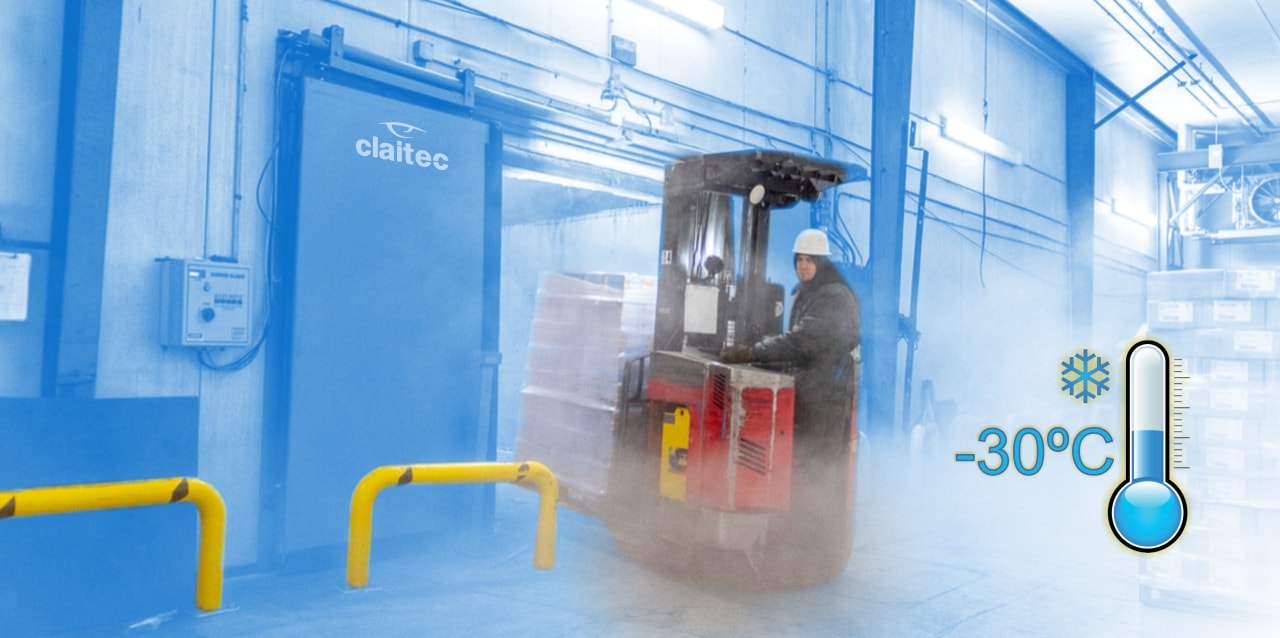 Needless to say that working at temperatures below zero is one of the most difficult tasks in our industries. We must take care of teams working in such conditions, we must be vigilant of the ways cold temperatures decrease safety and the many ways cold and humid conditions can affect our equipment.
We have received numerous enquiries recently on this subject and that´s why we´ve decided to clearly explain in this post the many possible ways Claitec´s tools can be applied to achieve safer work spaces at low temperatures, as low as -30° C.



First, prevention is key. The consequences of an accident that happens at temperatures below zero are a lot more serious and the time we have to react a lot less.



The PAS System (Pedestrian Alert System) is a very helpful tool to protect teams working under this type of conditions. Easily adapted to any situation, this solution warns forklift drivers when there is an operator in distances between 1 and 6.5 meters. The system is capable of identifying people and objects, and it even detects operators located behind a bookshelf, a wall or a pile of merchandise.
The Low Speed Areas System is used to reduce forklifts speed inside cold rooms, for example, thus achieving much safer environments, and greatly reducing the probability of work accidents. This solution complements very well with other systems – such as the aforementioned PAS – and it stands out for being easy to install, practical and very resistant.



We have also tailor-made specific systems for our clients which, get activated when a forklift approaches a door, notifying the driver whether it is closed or ajar. This is especially useful in contexts with low visibility, and in very low temperature climates, where doors must remain open as little as possible.
This system is achieved by combining a two-way Tz2 tag installed on the door and the PAS Solution installed on the forklift. That way, if the door is closed or half open, the Tz2 tag sends a signal through the PAS system to the approaching vehicle, and the system immediately turns on the light beacon and/or the audible alarm warning the driver about the situation. When the door is completely open the TZ2 tag doesn´t send the signal, thus avoiding accidents or possible crashes.


Remember that the PAS and LSA devices can be easily adapted to work at -30° C, since the only requirements are a heating resistance and a pressure balancing system, which can both be done very easily and economically.



Keen to learn more about these solutions?
Do you have a question for us?
Don't hesitate to contact us, we are here to help!