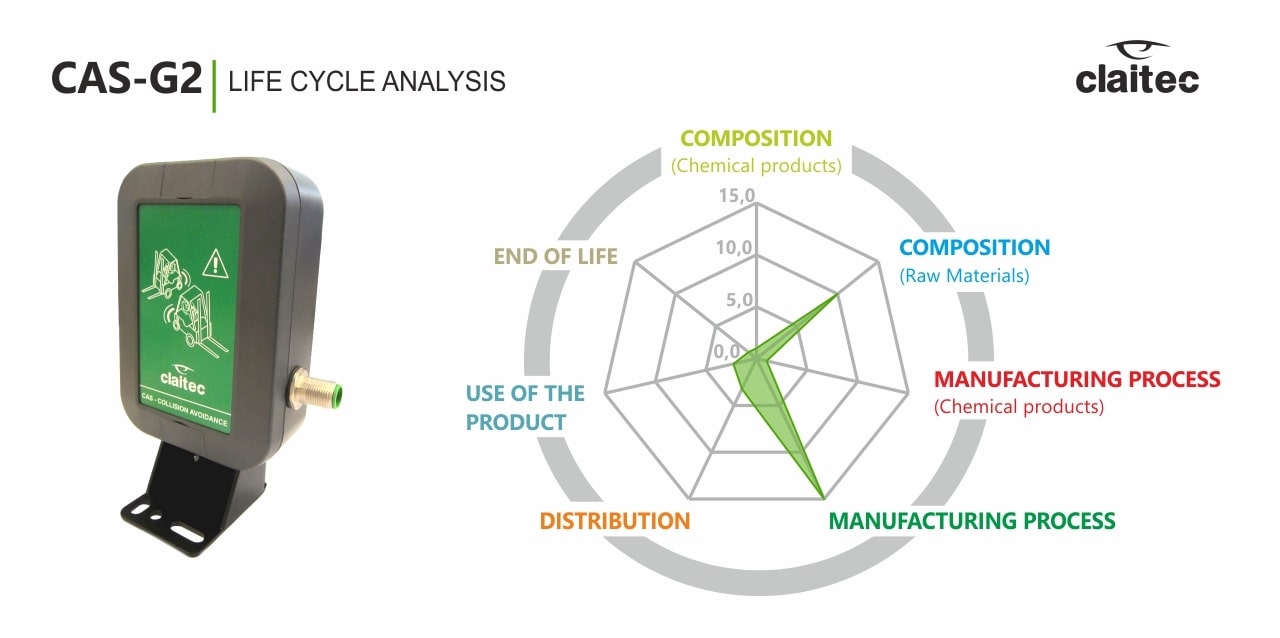 Claitec's work philosophy has a strong environmental component: we are convinced that companies are key players that must ensure our societies are more responsible with their environment. That's why, our environmental quality and control systems are certified in accordance with the requirements of ISO 9001: 2015 and 14001: 2015 for the activities of design, development and commercialisation of safety systems for the protection of people.
In this context, today we'd like to discuss the analysis we conduct on the life cycle of each of our solutions with the goal of evaluating the different processes through which every product undergoes, as well as identifying points of improvement in its environmental management that helps us generate the least possible impact.


What is the analysis of the life cycle of a product?
It's the detailed analysis of each of the phases undergone by any of our solutions with the aim of detecting its environmental impact. These are the phases analysed in a standard product:


Composition (chemical products and raw materials)
Manufacturing process (chemical products and process)
Distribution
Use of the product
End of life


In the first step – the composition – we analyse which raw materials and chemical products are used for the elaboration of the solution, observing, for instance, if they are recyclable and whether we are looking at new, recycled or non-recycled raw materials. We also determine if any of the elements can be adjusted or replaced by choosing a more ecological option, or if there are products that can be used in smaller quantities – among several other variables.


During the manufacturing process we study, on the on the one hand, whether the product is certified or not, and on the other, whether its environmental impact is evaluated. Sometimes improvements can be implemented, while in other cases, for example, in outsourced manufacturing situations, it is more complex to implement any changes.


Next, we look at distribution. In this step Claitec always determines the type of packaging of the product, the material used and how much of it is necessary. In addition, attention is paid to the means of transport used, and conditions and/or recommendations are made to ensure this stage is as efficient and as respectful towards the environment as possible.


After that phase, we analyse the future use of the product. In a way, Claitec has certain influence at this stage, since we can control the possible impact when designing the solutions, but not so much in the way our clients make use of them. Beyond that, our analysis also seeks to address how our products are used, what type of energies our customers are provided with and the level of environmental care taken in order to advise and accompany them on a path towards a more responsible use.


Finally, we reach the stage known as "end of life" of the product. This has to do with the management of the tools once they are considered waste. In this sense, Claitec complies with all current regulations related to waste management of electrical and electronic equipment, and the company is also a member of the ECO-WEEE GIS, which facilitates WEEE waste collection points and controls its management.


If you want to find out more about our product life cycle, or for specific questions about this topic or if you want to have further information about our solutions, please don't hesitate to contact us, we are here to help!